20/10/2014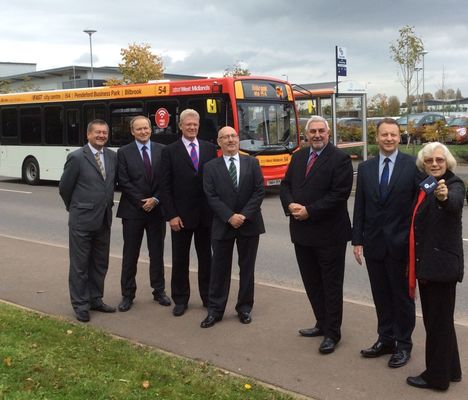 The dedicated 54 service, which launches on Monday October 27, will go direct to the parks, cutting existing bus journey times by up to 15 minutes.
The service will run from Wolverhampton Bus Station along Stafford Road, taking advantage of a £1.4 million highway and traffic management project currently being carried out by Wolverhampton City Council and public transport co-ordinator Centro.
It means the bus will take as little as 15 minutes to reach i54 South Staffordshire and just 17 minutes to the Pendeford Business Park compared to up to 35 minutes at present.
The 54, which will use a fleet of brand new National Express West Midlands buses boasting free wi-fi and low emission engines, will operate between 5:35am and 11:25pm Monday to Saturday. It will run every 15 minutes during peak times and every 30 minutes throughout the rest of the day and evening.
Its timetable has been designed to co-ordinate with i54 South Staffordshire shift patterns and to integrate with train arrival and departure times at Bilbrook Station, which is on the bus route. This will give people coming from Shropshire and Staffordshire a far quicker link to the two business parks.
The new bus service, which has been arranged by Centro, is being funded by the i54 transport steering group which includes South Staffordshire Council, Staffordshire County Council, Wolverhampton City Council and companies based at i54 including Jaguar Land Rover, aerospace company MOOG, food testing specialists Eurofins and ISP (International Security Printers). It will be operated by National Express West Midlands.
In a joint statement, Cllr Roger Lawrence, leader of Wolverhampton City Council, Cllr Philip Atkins, leader of Staffordshire County Council and Cllr Brian Edwards, leader of South Staffordshire Councils, said: "i54 South Staffordshire has become one of the region's prime business hubs with major companies operating there and employing hundreds of people.
"We have had to make sure connections and access to the site is second to none to attract high quality companies. This has been a unique partnership in that we have built a dedicated motorway junction for the site.
"We also have to ensure the many hundreds of employees and visitors to the site have alternative methods of transport that are safe and convenient. We're pleased to have Centro on board to make those connections work."
Cllr Judith Rowley, Centro's lead member for Wolverhampton, added: "Thousands are already working at the two business parks and hundreds more jobs are set to come on stream.
"It's therefore vital we have quick, convenient and affordable public transport links not just for existing staff but also for those looking to fill the new job opportunities being created."