14/11/2014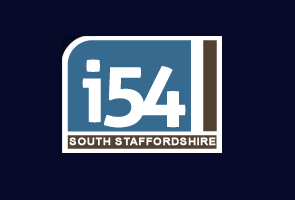 A new motorway junction providing access directly onto one of the region's top business sites will open on December 11, it was announced today.
The development has seen junction two of the M54 reconstructed to provide access onto the motorway network from i54 South Staffordshire. It is the first time a council has undertaken a major project on a motorway and has been a major draw in attracting leading global businesses.
Earlier this month HM the Queen officially opened the new Jaguar Land Rover engine plant and visited International Security Printers (ISP), a firm which produces stamps for an international market that recently relocated to the site. I54 South Staffordshire is already home to aerospace firm Moog and scientific analyst business Eurofins.
Staffordshire County Council has led the construction of the new junction two with its partners Wolverhampton City Council and South Staffordshire Council. The project has involved realignment of the junction, new link roads and slip roads built and a replacement 45metre 500-tonne bridge installed across the M54. The developer partners Balfour Beatty carried out the project.
Staffordshire County Council's economy leader Mark Winnington said: "Having a dedicated motorway junction to provide access directly onto i54 South Staffordshire is one of the major draws to the site and is why global business leaders have chosen to locate there. It has made the difference between here and other possible locations in the UK and internationally. This is the first time a council has undertaken a civil engineering project of this kind and to see it ready to open is rewarding for the partnership. It really justifies our investment and commitment to the project which will make a big difference to job creation and to our economy. We'd like to thank people for bearing with us while the work has been carried out. It has resulted in us having one of the best business hubs regionally and nationally which will now go from strength to strength."
Wolverhampton city council leader Roger Lawrence added: "We are nearing the completion of i54 South Staffordshire which is immensely satisfying for all of the partners involved. This is a major business development for Wolverhampton and the region. i54 is a unique partnership between our three councils, delivered on time, on budget and setting new standards for British business, engineering and advanced manufacturing. Our joint investment at i54 has secured hundreds of millions of pounds of further investment and is bringing thousands of jobs to the area."
South Staffordshire Council leader Brian Edwards said: "It is a real milestone to see the new junction ready to open as it's a sign that i54 South Staffordshire is very much open for business. We already have leading businesses operating on site and the new Jaguar Land Rover engine plant was officially opened this month. Completion of the development with such high-profile companies on board is testament to the success of the partnership."