11/05/2020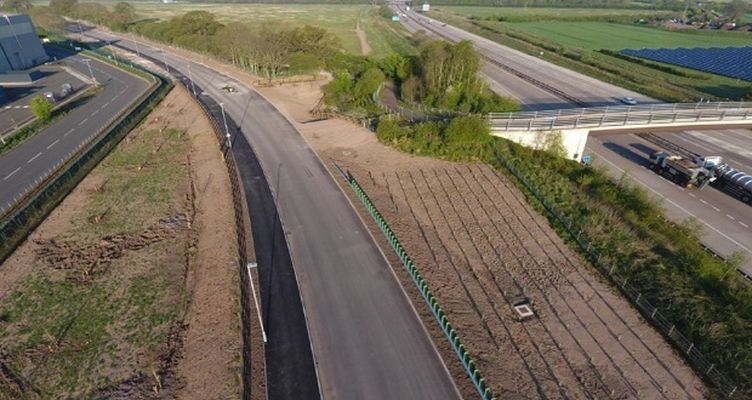 The expansion of i54 South Staffordshire business park has moved into the next phase with preparation for factory platforms and services infrastructure works starting.
It follows the early completion of works to create an access road to the extension sie - on the county border with the City of Wolverhampton - while adhering to strict Government coronavirus guidelines to maintain workers' safety.
The western extension will deliver up to 100,000 square metres of ready-made development platforms for companies at what is a globally-recognised high manufacturing employment zone.
It is anticipated new occupiers could start arriving from 2022, providing new job opportunities for local residents.
The current i54 site has a workforce of around 2,700 people, with half of the jobs held by people living within a ten-mile radius.
City of Wolverhampton Council, Staffordshire County Council and South Staffordshire Council have agreed a funding and delivery strategy for the first 60 acres of the extension.
In addition to the councils' investment, there has been strong support and financial commitment from the Black Country Local Enterprise Partnership and Stoke-on-Trent and Staffordshire Local Enterprise Partnership.
Staffordshire County Council's economic growth leader Mark Winnington said:
"It is vital that we are maintaining construction work where possible so we can maintain long-term economic stability. The safety of public and our teams remains the top priority.
"We're pleased then that the i54 South Staffordshire western extension works have continued with the access road completed on schedule and the team now starting the next phase. This is a critical project for our partnership, particularly as we move towards kick-starting the economy again after the current crisis.
"We know there is high demand for businesses to locate here and that is why we made the decision to expand the site. We anticipate the western extension could generate more than 2,000 jobs and lever in up to £300million in private investment. A fully occupied site could release total business rates of up to £3million a year, with around half of this reinvested to help fund public services."
City of Wolverhampton Council Cabinet Member for City Economy, Councillor Harman Banger, said:
"This is welcome news at what is otherwise a very difficult time for all due to the coronavirus pandemic.
"i54 plays a big part in the lives of many families in the City of Wolverhampton and Staffordshire and we are determined to deliver the i54 western extension, which we see as critical to the long-term recovery of our local economy after the crisis.
"Our joint investment at i54 has secured hundreds of millions of pounds of further investment and has brought thousands of jobs to the area, with half of employees living within a ten-mile radius.
"We are now building on the success of what is already one of the UK's premier advanced manufacturing business parks."
The western extension scheme brings a plan to boost employment skills, training and recruitment to local people with a £150,000 contribution – helping them to access the newly generated jobs.
The partners have also agreed a further £500,000 to support and promote sustainable travel activities, and £50,000 has been granted to Pendeford Hall Nature Reserve to help continue and develop its education, health and wellbeing, and personal and social skills development outdoor activities for local communities.
More than £1 billion has so far been invested in the original i54 site, with 2,700 people employed by multi-national companies JLR, Moog, ISP, Eurofins, ERA and Atlas Copco. Morris Site Machinery, one of the leading site machinery businesses, is also well underway with its new facility, which will open this year with further jobs anticipated.
Over 3,500 students have also benefitted from a targeted skills and education programme.